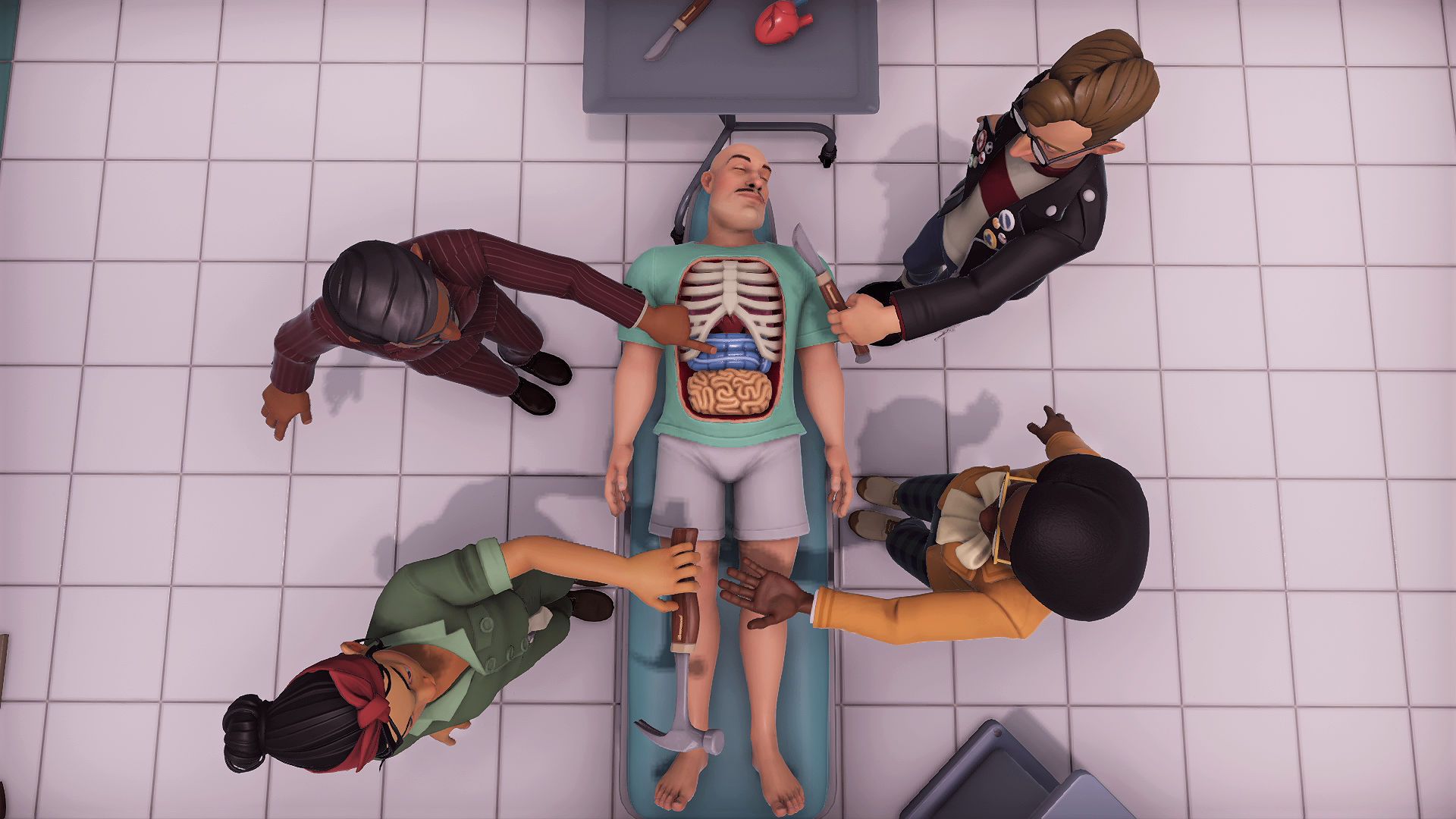 Surgeon Simulator 2 Revealed at the PC Gaming Show!
The hospital curtains have finally been drawn back to reveal Surgeon Simulator 2 in all its glory! The PC Gaming Show signified a big reveal for Surgeon Simulator 2, showing off gameplay for the first time and demonstrating the enormous capabilities of the Bossa Labs Creation Mode.
Arriving later this year, Surgeon Simulator 2 is the next installment in the critically acclaimed (and YouTube renowned!) Surgeon Simulator series. This time, though, we're injecting a delirious dose of co-op adrenaline straight into the heart of the original, cranking everything up to a whole new level…
The Surgeon 2 team at Bossa has been working extremely hard to make sure the surgery is prepped, the scrubs are dished out and every organ is exactly where it should be (for now, at least). Besides a trusty group of playtesters, much about Surgeon 2 has remained a mystery, until very recently.
When given the opportunity to reveal Surgeon Simulator 2 at the PC Gaming Show, we naturally said: yes, please! With a reveal trailer in the bag, we began teasing the announcement ever so slightly across the Surgeon Simulator 2 social channels. You might've spotted this:
This GIF hinted that something was coming on the 6th of June, but didn't reveal what. Our social media followers speculated but to no avail. We remained purposely elusive, only throwing a few '👀' emojis in response to speculations.
To signify the week of the PC Gaming Show, we turned to the iconic Surgeon Simulator hand to countdown to the show, from Monday until Friday, dishing out no information about the when, what, who, and why until Friday evening.
When the PC Gaming Show rolled around Saturday night, the Surgeon Simulator 2 team could - temporarily - breathe a sigh of relief as their hard work was showcased on the big screen. Not only did viewers get the opportunity to see Surgeon Simulator 2 gameplay for the first time, but they also got to see Bossa Labs in all it's glory and, hopefully, realise that anything is possible using the Bossa Labs Creation Mode in-game.
JackSepticEye, RTGame, Callmekevin, and Daithi De Nogla joined in the Surgeon Simulator 2 hype over the PC Gaming Show weekend, too, with an exclusive 'Let's Play!' of the game for their followers.
Have we managed to whet your Surgeon Simulator 2 whistle? You can pre-order the game here, and enjoy time-exclusive cosmetics in-game.
If you just can't wait for the game's release, sign up to the closed alpha here, and be the first to get your hands on Bob.
Don't miss out on the latest word on the ward! Register for the Surgeon Simulator 2 newsletter below to get the latest on all things surgeon. See you later, operator!